<! float image right-->
Concealed Moisture Detection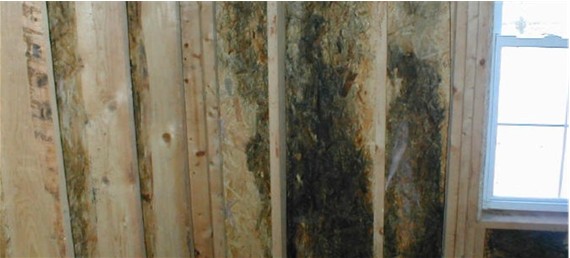 Moisture is the leading cause of costly building upgrades today. Scanning interior surfaces of your building can reveal excess moisture due to roof leaks, plumbing leaks, moisture entering your building at wall penetrations, moisture infiltration from ice dams, leaks around windows and doors, locating hidden dampness under resilient flooring, and many other susceptible areas throughout your home.
Moisture on most building materials can easily destroy the structural integrity of a building and nurture Mold within days. The first step in any moisture problem remediation is to quickly and accurately locate and remove all sources of moisture in order to prevent wood rot and Mold. I'll be able to instantly detect the ultimate source and exact location of any moisture entry area with little or no physical dis-assembly of the premises and minimal disturbance of anyone living in the home. This prevents building owners from ripping out entire walls and ceilings in order to pinpoint a problem area or to repair a leak somewhere inside the surface.

A visual inspection of this wall does not reveal issues, but my infrared camera detects an active roof leak above this area.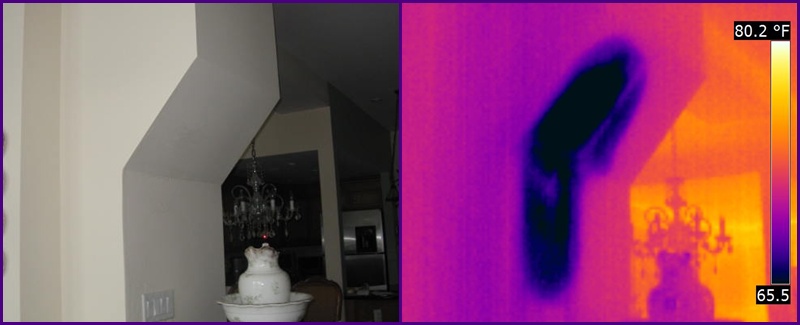 The moist areas of building materials cool when energy is transferred during the water evaporation process; therefore (during a thermal scan), a wet "cooler" area will stand out from the surrounding dry "warmer" surfaces. If I do locate moist areas in your home, I will be taking both digital and thermal pictures of these areas of concern in order to include these findings into your infrared report. Specified sections of wall or ceiling coverings can then be removed in order to perform the repairs that caused the moisture build-up. I will be alleviating the need to remove large sections due to pinpointing the exact location of the moisture build-up. Once the coverings are removed and the source of the leak has been properly repaired and all wet materials have been removed from the building, corrective measures must be taken for drying out the area before any materials can be re-applied. I am able to monitor the drying process for you, and confirm when your building's damaged area is completely dry (Mold-free) and ready for re-construction. Then your building contractors will be able start installing your finished areas to your specifications.
My infrared camera does not detect the actual Molds behind your walls and ceilings, but will detect the issues associated with Mold build-up. When basement walls are covered by finish materials, thermal imaging can give you a definitive answer as to whether or not there are moisture issues behind these materials. An infrared camera is basically an on-board computer and a display screen that will show me the thermal images and temperatures that quickly identify the moist, cold or warm areas where molds are likely to be growing. Once I successfully locate an affected area, an invasive inspection at that exact location is then recommended. Required corrective actions are now able to be taken immediately, in order to alleviate extensive damage and any Mold accumulation.
You can also hire me for Moisture contamination evaluations after a severe flood, broken water lines, and equipment failure or even before acquiring real estate suspected of having hidden moisture damage. (Hint: Don't believe the story about the house that has musty odors because it has been vacant and closed up for a while. Musty odors are caused by moisture infiltration.)

This ceiling appears dry but thermal imaging detects an active leak in this location.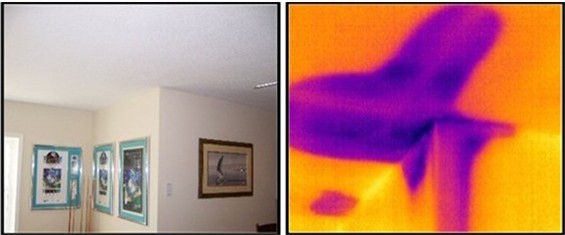 ---
Here's what my clients say about me... (Press F5 on your keyboard for additional testimonials)
Hi Dave,
I was very impressed with you on Monday when we met in Peabody. I have never seen a home inspector spend 4 hours doing the most total inspection you did. And not only doing the inspection but educating your client at the same time.
I am sending you a new client, his name is Norman C. He is a good friend of mine. He is buying a house in Wenham on lake street and asked if I knew a "good" home inspector.
I have seen a lot of home inspectors over the years. The general contractor who couldn't make it on his own and thought that being a home inspector was another way of making money. But, all the while feeding his bad information along with his bad practices. David, your not that guy. I put you in the top 5% of all the home inspectors I've seen in the past 25 years. Well done!
David Carnevale
Owner 1-800-PLUNGER
---