<! float image right-->
Pipes Leaking Behind Walls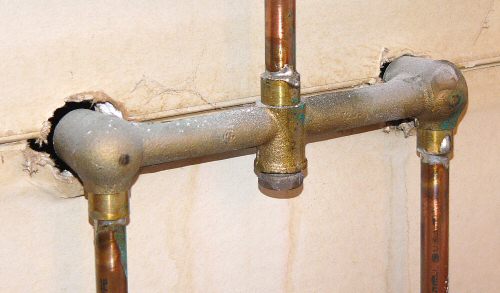 The problem faced by most property owners is that any moisture behind the walls, over ceilings, and under the floors are often impossible to detect until the problem is excessive and obviously visible. But, by then it's too late and all damaged surfaces must now be replaced, along with the pipes that caused the damage. Small supply pipe leaks or waste line seepage's are common sources of water accumulation that may easily cause Mold growth in an average indoor environment in as little as 24 hours, without you even knowing about it.

This ceiling looks good until my infrared camera picks up small pipe leaks.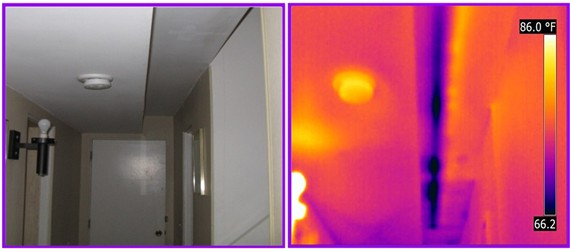 Minor pipe leaks, stress corrosion and pipes with pinholes can go undetected for quite a while. There is no practical way to permanently eliminate all supply and waste pipe leaks due to the wear and tear these hidden pipes go through. The only way you're going to control any moisture accumulation from your concealed or aged problematic piping is to perform an annual infrared inspection.

Infrared scanning detects a hot water leak under jacuzzi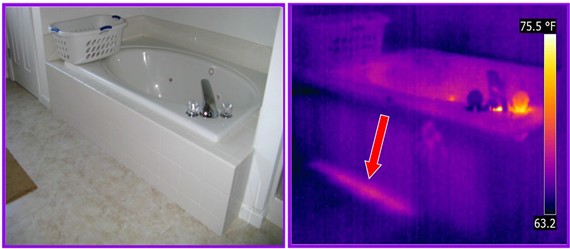 Moisture tends to be cooler or warmer than normal construction materials, depending on the environmental conditions. This means that all wet materials can generally be detected by an infrared camera and therefore detect conditions that promote Mold growth. Mold related problems can be detected before any Mold is visible to the naked eye or detectable by the nose. Thermal (IR) Imaging will provide you with valuable diagnostic tools for all construction related problems associated with moisture intrusion from pipes and will eliminate Mold growth if the problem is detected on time.
Keep you and your family safe from any hidden Mold accumulation. Consider having your concealed water supply and waste pipes thermally scanned on an annual basis.
---
Here's what my clients say about me... (Press F5 on your keyboard for additional testimonials)
Dave also does basic home inspections but we hired him for his home infrared scan service to find out where we have cold leaks in our house.
Dave did an excellent job. Responded to calls quickly. Arrived on time. Was very thorough. The best part is that he sent us an incredibly comprehensive multi-page report of his recommendations and pictures he took of every area of our house showing just wear the cold leaks were. He suggested the best ways to address each area. I think he provides a very valuable service to homeowners.
Donna Cognac
---