<! float image right-->
Infrared Image Gallery 2

This is an exterior wall with no insulation issues. The structural member locations are clearly visible (with infrared) from colder studs conducting onto the interior drywall.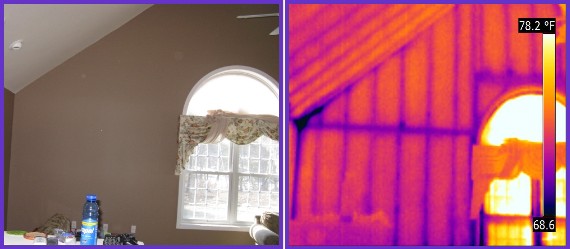 During the colder months, a perfectly insulated wall will contain cold structural members (see image above). In this home, the studs are warmer than the cavities. This is clearly indicative of "no insulation" behind this particular wall.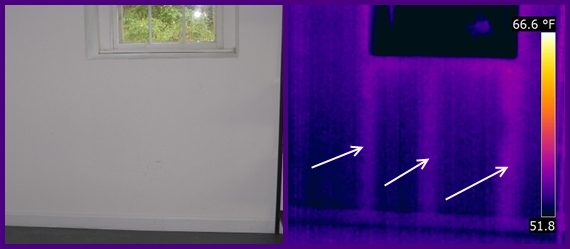 This is another home with the same situation...empty wall cavities. This uninsulated wall is equal to leaving your windows and doors wide open.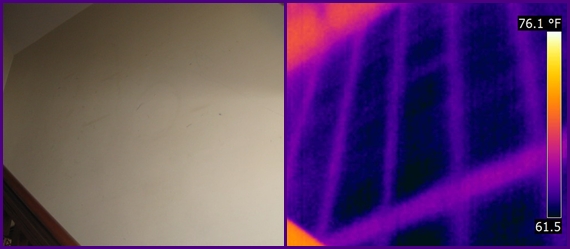 The attic cavity above this particular ceiling was not accessible. No openings were installed for my inspection. That don't stop me from investigating further. My infrared camera has no problem detecting a shoddy installation of insulation. The heat loss here would be significant.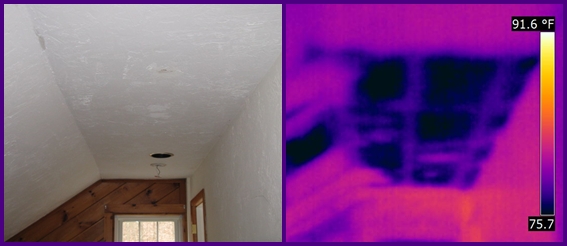 This lower ceiling surface looks good visually, but my thermal imaging camera detects an excessive void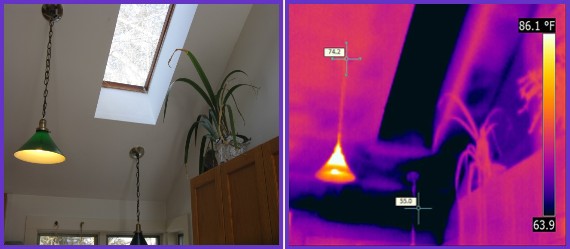 This newly constructed home had insulation missing in this corner of the room.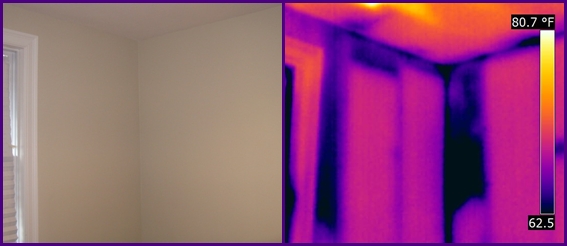 These outer ceiling cavities are allowing excessive cold air to enter living area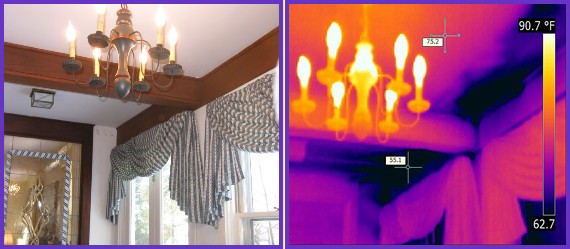 This wall looks fine until my infrared camera detects settled insulation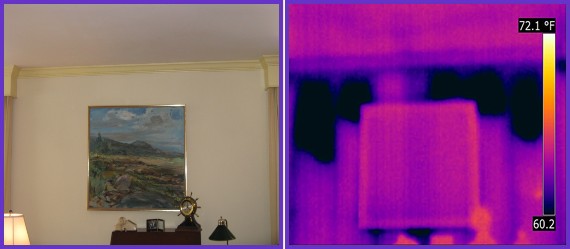 My thermal imaging camera detects more settled insulation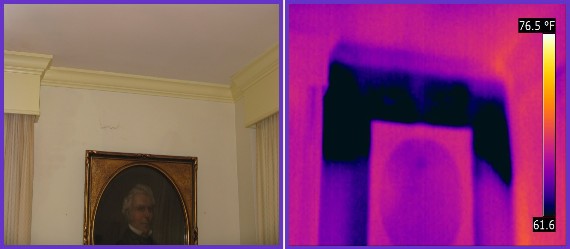 Infrared detects cold air infiltrating at lower left window framing and all outer floor cavities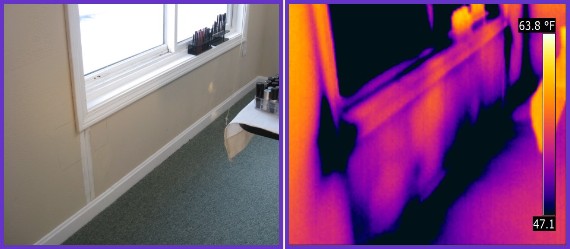 A client inquired about ice damming on their roof. You can clearly see the voids at the rear portion of these two skylights. This void allows interior heat to escape and melt the snow on the roof above this area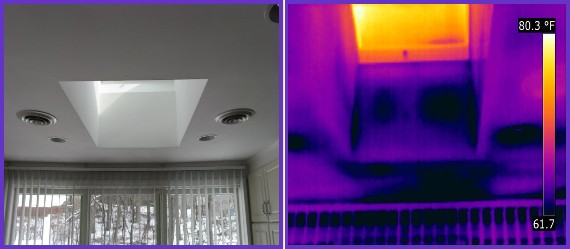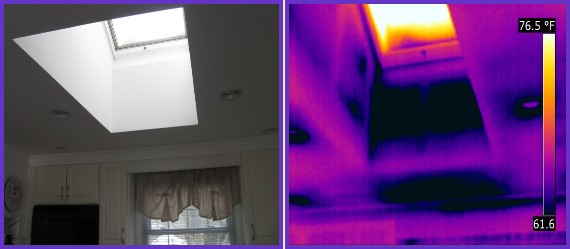 The soffit around this particular skylight contains recessed lighting that does not allow insulation contact (Non-IC lighting) per manufacturer. An upgrade to more expensive recessed light fixtures (allowing insulation contact - IC lighting) are no option, in order to properly insulate this type of ceiling cavity and prevent ice damming on the exterior roof edge.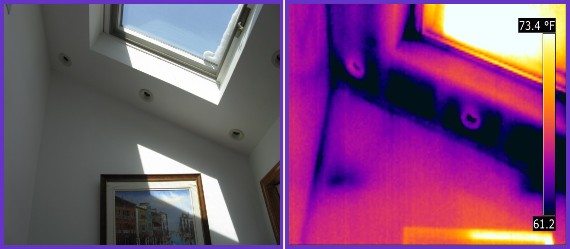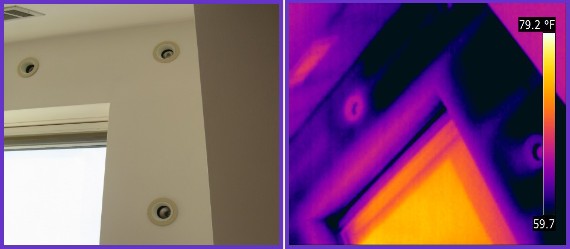 The stud cavities around this window were obviously not insulated.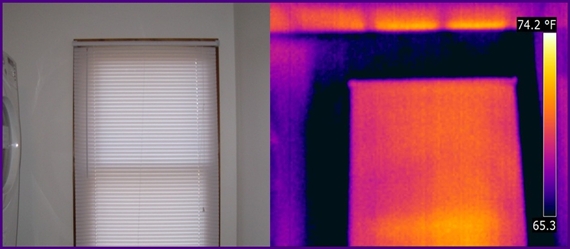 Cathedral ceiling cavities are impossible to inspect visually, but thermal imaging has no limitations. My infrared camera detects missing insulation throughout one side of the gable. The heating bill here will be exorbitant.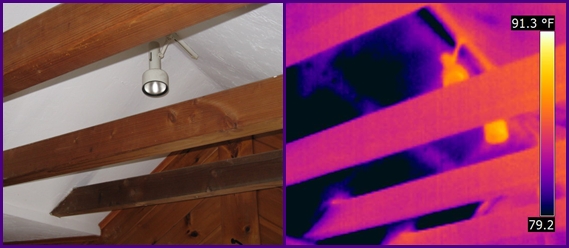 The cellulose insulation in these wall cavities has settled quite a bit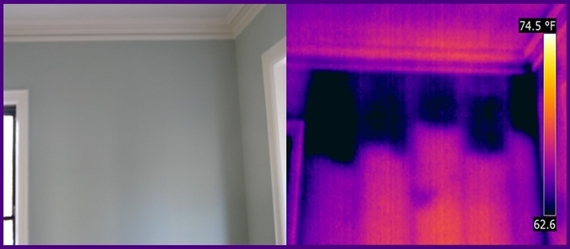 More settled cellulose insulation. Infrared also detects heat piping behind this wall at the top right of IR image.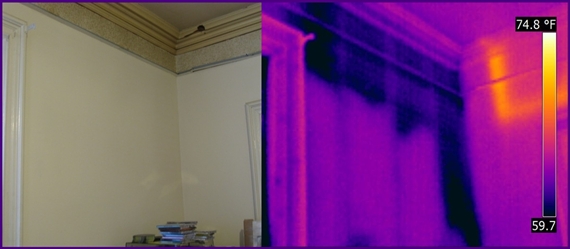 ---
Here's what my clients say about me... (Press F5 on your keyboard for additional testimonials)
I have had MassSave energy audits at my house in the past, but for some reason, there were still a few droughts that couldn't be identified. I am a real estate broker and have come to know the excellence and professionalism that Dave Valley brings to home inspections. When I learned that Dave also does thermal imaging audits, I thought that it would be a really good idea to hire him to do an infrared thermal imaging inspection. The findings from the thermal imaging inspection and the report that Dave created allowed me to see exactly what areas did not have insulation and this has enabled me to start tackling the remaining droughts in the house.
The major location where there was no insulation was on the flat roof above my roughly 400 square foot kitchen. All heat would just disappear through the flat roof above the kitchen. It was quite revealing and I never would have had this level of insight through thermal eyes without hiring Dave to do a thermal inspection with his infrared camera. Granted, it was difficult to follow up on Dave's recommendation "just rip out the kitchen ceiling and spray foam the entire roof and ridge line." I thought "ok, sure .. ugh!". I tackled this project though and thoroughly spray foamed the entire kitchen roof. The difference is incredibly measurable.
Now, to tackle several of the other locations identified in Dave's thermal imaging report. I highly recommend to hire Dave Valley to do a thermal imaging inspection and report for your home "prior" to doing an MassSave energy audit. The imaging report will help you immensely in pointing out your insulation needs and keeping the heat inside in winter and the cool inside in summer.
Warm regards,
~Willard
---