<! float image right-->
Infrared Image Gallery 3
My infrared camera detects shoddy installation of cellulose insulation in this concealed wall cavity above the door.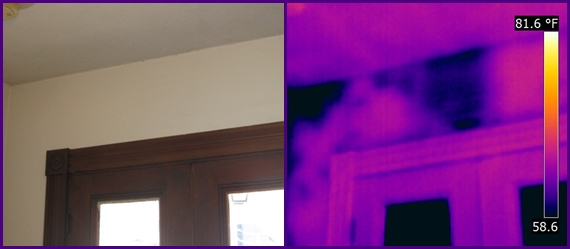 Thermal imaging detects insulation voids throughout this attic floor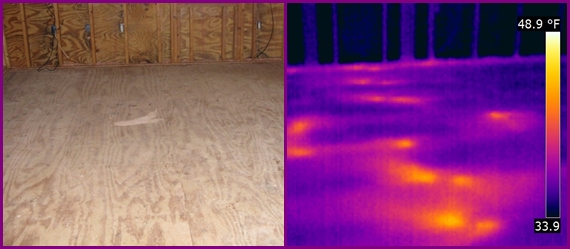 Infrared scan detects shoddy insulation application in outer ceiling cavities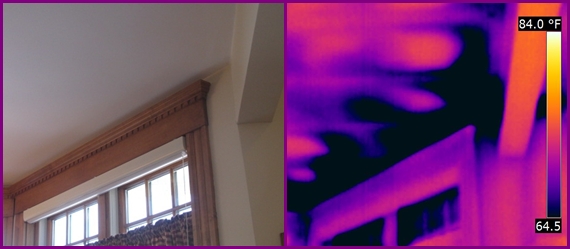 This wall set-up looks great, until my infrared camera detects uninsulated wall cavities behind the flat screen television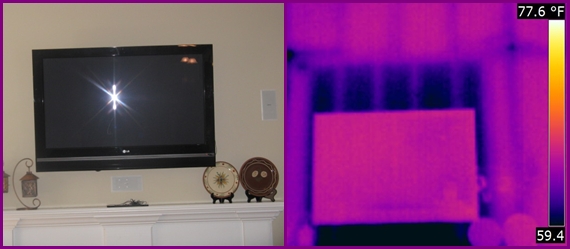 Thermal imaging detects a wide insulation void throughout this upper wall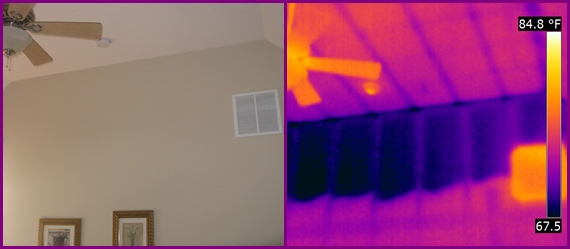 Thermally scanning an attic detects heat loss from the living area below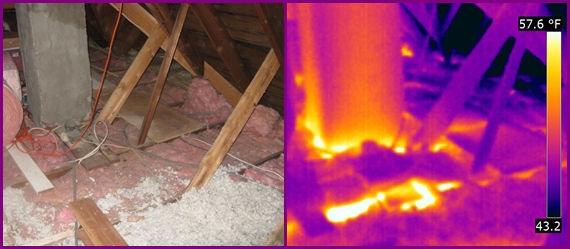 The builder disclosed that all the walls (in this rehabilitated home) were fully insulated. Not according to my infrared camera.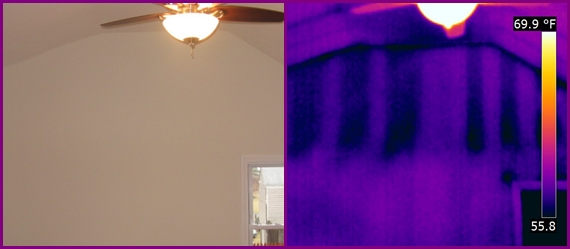 Excessive ice damming was occuring at the roof edge outside this dormer wall. Infrared detects missing insulation behind this plaster wall.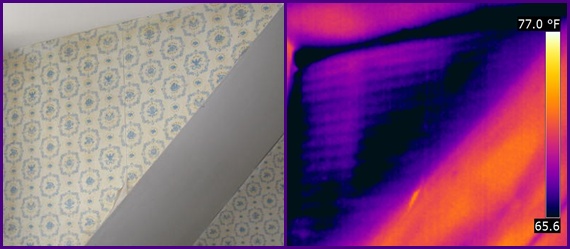 This hallway wall looks great until my infrared camera detects an excessive void in the insulation application.

Someone failed to insulate an entire rafter cavity.
---
Here's what my clients say about me... (Press F5 on your keyboard for additional testimonials)
Hi Dave,
I was very impressed with you on Monday when we met in Peabody. I have never seen a home inspector spend 4 hours doing the most total inspection you did. And not only doing the inspection but educating your client at the same time.
I am sending you a new client, his name is Norman C. He is a good friend of mine. He is buying a house in Wenham on lake street and asked if I knew a "good" home inspector.
I have seen a lot of home inspectors over the years. The general contractor who couldn't make it on his own and thought that being a home inspector was another way of making money. But, all the while feeding his bad information along with his bad practices. David, your not that guy. I put you in the top 5% of all the home inspectors I've seen in the past 25 years. Well done!
David Carnevale
Owner 1-800-PLUNGER
---